REGISTRATION IS NOW OPEN!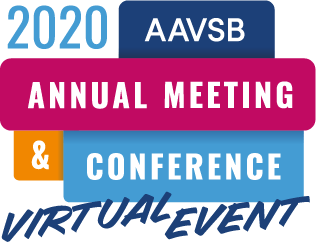 You've come to expect the best and most relevant educational content at AAVSB Annual Meetings. This year is no different. We've got a fantastic lineup of subject matter experts that are thrilled to engage with you.
The 2020 AAVSB Annual Meeting & Conference - Virtual Event will bring together Member Boards to collaborate, educate, & network, all via the state-of-the-art OnAir online conference platform.
Educational sessions will be held every Tuesday and Thursday for three weeks beginning on September 22nd. On October 15th, there will be a special session for Executive Directors and Registrars.
To register, click on the "Register Now" button above & create a new user account. (This is different from your MyAAVSB account.) You'll add your profile information, select your registration & complete the registration process. It's that simple!
We've spread out the sessions into a few days so you can still carry on with your day-to-day business while you attend the conference.
All times listed are in US Central Daylight Time:
Veterinary Virtual Care Panel: Tuesday, September 22 from Noon – 2:00 pm
Wellness During the Pandemic: Thursday, September 24 from 1:00 pm – 2:00 pm
Measuring Regulatory Performance: Tuesday, September 29 from Noon - 1:30 pm
Cannabinoids in Veterinary Medicine: Thursday, October 1 from Noon - 1:30 pm
Permissionless Innovation - Cutting Edge Regulation for the Idaho Pharmacy Board: Tuesday, October 6 from Noon – 1:00 pm
Top Legal Cases: Thursday, October 8 from 3:00 pm – 4:00 pm
Exclusive Executive Director / Registrar Breakout Session: Thursday, October 15 from Noon – 3:00 pm
Executive Directors and Registrars can register their whole board for $250 total (BEST VALUE)
-OR-
First board representative (board member or executive) is FREE. If you have a board member that is on an AAVSB committee, they already get to attend for free. You still have another free registration to use.
Second board representative is $150
AAVSB committee members and volunteers are FREE
One of the best parts of an AAVSB Annual Meeting is all the ways in which you can connect with other regulators from across North America and learn from each other. This year is no different. As an attendee, you'll have access to powerful networking tools, including small group discussion rooms and private one-to-one video calls.
A 30-minute networking opportunity will be available before and after each session.
2020 Annual Meeting Update from Dr. Roger Redman, AAVSB President
As you know, the Annual Meeting has two components – the Educational Meeting and the Annual Delegate Assembly. Several factors were considered when the AAVSB Board of Directors discussed this year's meeting including the COVID-19 pandemic, executive orders for the scheduled location of Portland, Oregon, and the results from the membership survey on the meeting.
Educational Meeting
In this complicated time, the AAVSB Board of Directors feels it is imperative our community engages with and learns from one another. Each Member Board has individually worked through the pandemic and has great knowledge to share. For those reasons, the Educational Meeting will be held virtually. This ensures you receive regulatory education and have a chance to interact with other Member Boards as we all continue the important task of regulating the veterinary profession. These education sessions will be submitted for RACE® approved credit. We look forward to your engagement in these virtual offerings.
Annual Delegate Assembly
The other component of the Annual Conference, the Delegate Assembly, will be cancelled for 2020. The Board of Directors feels there are three important reasons for the cancellation including:
The business session of the Association lends itself to Delegates and members being face-to- face.
Achieving quorum would be difficult through virtual means.
Continuity of leadership is extremely important during these unprecedented times.
The cancellation of the Delegate Assembly impacts voting on proposed Bylaws amendments as well as elections for the open positions. Per the AAVSB bylaws, the current members of the Board of Directors, the Nominating Committee, and the Representatives to the ICVA, shall serve "until a successor is elected and qualified" which will occur at the 2021 AAVSB Annual Meeting & Conference in Denver, Colorado on September 30 – October 2. Submitted proposed Bylaws amendments will be deferred until 2021.
I thank you for your understanding of the changes for the 2020 AAVSB Annual Meeting & Conference. I look forward to continuing my service to you into 2021. If you have any concerns, please feel free to contact me directly at President@aavsb.org.
Sincerely,
Roger Redman, DVM
AAVSB President
President@aavsb.org.
Introduction to the Annual Meeting
The AAVSB Annual Meeting & Conference brings together veterinary regulators from across the United States and Canada for networking, engaging educational content, open forums, and the association's business sessions.
View this recap video from the 2019 Annual Meeting that was held in St. Louis, Missouri: