Nominations for Elected Leadership for 2021 are Now Open!
Need an opportunity to expand your leadership skills? Interested in elevating your knowledge about veterinary regulation to support your board? Nominations are open now through June 3, 2021 for the following positions:
President-Elect
Directors
Nominating Committee Member
AAVSB Representatives to the ICVA
All nominations require a nomination application, a short bio and a letter from the sponsor.
NOMINATION DEADLINE: June 3, 2021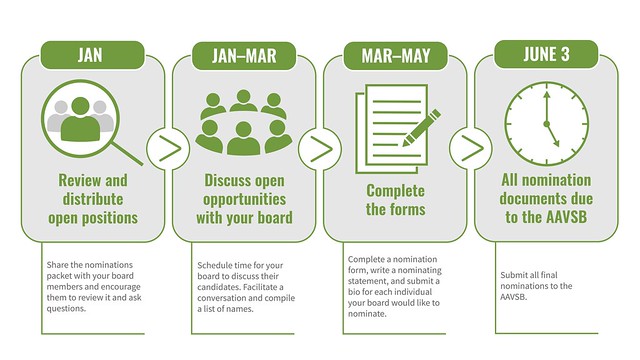 Learn More
Opportunities with the AAVSB
Do you have a desire to support your fellow veterinary regulators in the interest of public protection? The AAVSB has numerous opportunities for involvement!
Take a look at the AAVSB Leadership & Volunteer Opportunities book.
Let us know what you are interested in.
Complete an online Volunteer Interest Form
Are you looking for a new experience? Wish to expand your leadership skills? Nominations are open in several areas. Read more.